I went to see Mike Daisey's monologue "The Agony and the Ecstasy of Steve Jobs" in New York on Friday night. The crux of the piece is that Apple should be doing more to ensure workers in Shenzhen factories aren't abused and suicidal because Apple is an industry leader and a brand known for doing things differently.
This show has been getting a lot of attention. The issues raised about working conditions in Shenzhen sparked investigative reports by The New York Times, a report on ABC's Nightline, an episode of NPR's This American Life, a profile on CBS Sunday Morning, a response from Apple and a 25% increase in wages by Foxconn. Foxconn is the consumer electronics manufacturer that makes 50% of the shiny tech toys we love to play with.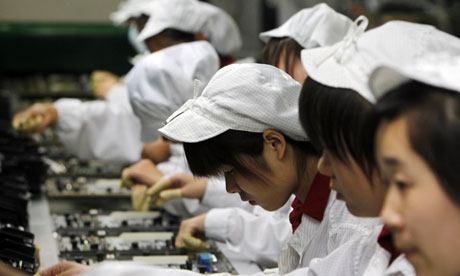 As the news cycle caught up with the art cycle - the play opened in Summer 2010 - Apple lovers were alarmed. There's something disturbing about loving a beautifully designed machine and imagining that machine made by hands - gnarled hands, tired hands or even 13 year-old hands.
Apple is not alone in the Shenzhen supply chain moral quandary. Almost every major consumer electronics brand uses Foxconn to manufacture some of its products because Foxconn is really good at what it does. Faster. Better. Cheaper. Done. And it is true that for some workers in Shenzhen it's a step up to work 16-hour days, 7 days a week in a factory and live in a dormitory.
Apple's experiencing a backlash because its profit margins are huge, the balance sheet is luscious and they are a leader. The brand is about beauty and creativity and ideals. The products are insanely great. But the worker situation in Shenzhen is not insanely great. And consumers expect insanely great from Apple.
When I entered The Public Theater I expected to see a show by a man out to get Apple and make an example of them. I was surprised to see that Mike Daisey is an absolute Apple fan-boy. He is also a geek's geek. Daisey gives a riveting tour de force performance that touches on the history of computing and geek culture from the Homebrew Computer Club to the beauty of fonts to upgrade cycles debated in rumor-filled forums and, of course, those epic Steve Jobs product launch presentations. He's not attacking Apple as an outsider. He's calling them out as an insider, an activist and a long-time repeat customer.
His call has been heard and taken up, resulting in something all brands need to consider: transparency, globalization and social media mean that your supply chain and production process are part of the brand story.
At the end of the show Daisey tells the audience that how something is made is part of the design. He reminds us that design is more than form and function; it's also production. And today's consumers expect insanely great design.